| | |
| --- | --- |
| Orchid-Star | |
In 2004 after a lot of nagging from a friend I was persuaded to think about taking some of the music I had written for DJ sets out live. Of that material I had by then released Inside the Voice Inside, finished Aria , both of which contain tracks played in early Orchid-Star sets, Aria having tracks with both Myo and Samanta Ray, and was halfway through writing a third.
By the time I brought the band together the writing was done but it was meticulously re-recorded with the new musicians and became Orchid-Star's first album Birth released in 2008 by Liquid Sound along with reBirth - the entire album remixed by Youth, Kuba, Subsonar, Tripswitch and myself
Our 2nd album Faster came out in 2011 with a much bigger contribution from the other band members.
We're celebrating the 10th anniversary of our first gig now and busy working on our 3rd album, with lots more twists in the journey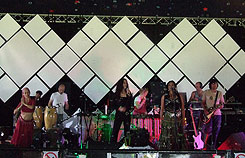 There are lots of live pictures of Orchid-Star here
If you want to find out more about Orchid-Star go to orchidstar.info
If you would like to go on Orchid-Star's (and my) mailing list go to the Contact page.
If you would like to book Orchid-Star go to the Contact page or contact .